ARGENTINA DORADO FISHING NEAR BUENOS AIRES CITY
December 22nd, 2009. San Pedro area

Excellent Dorado fishing close to Buenos Aires fishing.
Summer fits perfect for Dorado. The good weather condition + some rain in the area make the dorado start chasing lot of minnows and these can´t be better to try on the fly. Last week we caught from 5 to 7 Dorado per fisherman, been the record a 9-pounder. If you are planning to visit Buenos Aires during January and February, don´t miss the opportunity to go for this amazing freshwater fish.

Pablo Mazza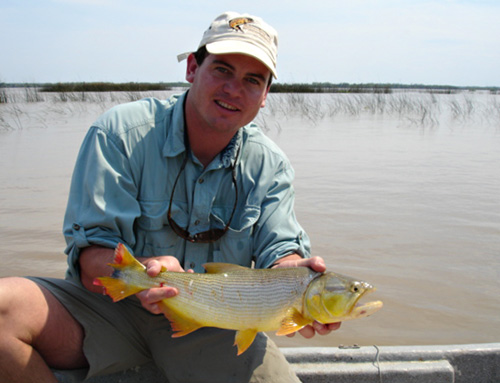 ARGENTINA DORADO FISHING
October 2nd, 2009. Corrientes province

Excellent Dorado fishing in Itati.
The beginning of season can´t be better. Lot of Dorado start chasing with the first high temperatures. As the spring begun with sunny and warm days, the Dorado get crazy with the quantity of bait available. Our guides in Corrientes province told as that they caught plenty of Dorado from 6 to 16 pounds. Also many Pira Pita and Pacu. Hope the fishing continue like this during October and I´m sure will be great from January till April.

Pablo Mazza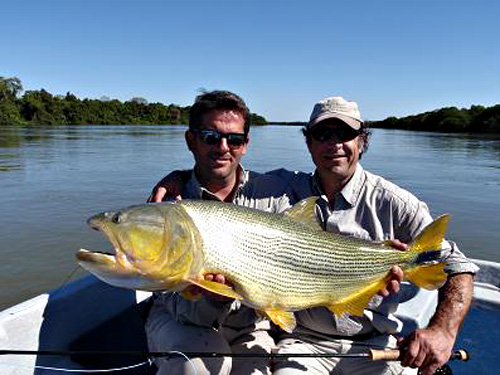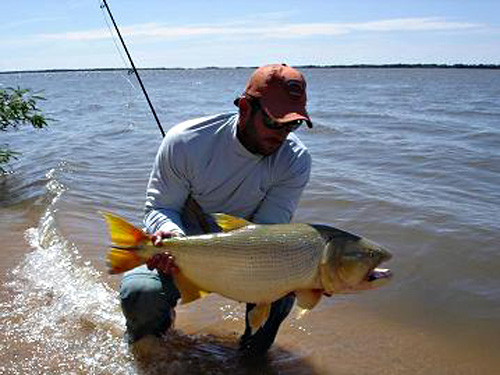 ARGENTINA MIXED BAG DUCK, DOVE and PERDIZ - WING SHOOTING REPORT
July 20-25th, 2009 - Entre Rios province, Argentina

Even the draught, we duck hunt!
The end of season can´t be better. We hunt lot of birds at Los Laureles lodge together with Dick KK from Global Sporting, US. His hosted group enjoy a lot the birdshooting trip. On the arrival day everything looks really bad because a big, big storm. But then... duck, dove and perdiz hunt was excellent. I really enjoy a lot sharing this unforgettable hunting experience with this group: John Galli, Frank Straw, John, Russell and Wesley Owens, Richard Polly, West Waugh, LaVon Wenger and Dick KK.

Pablo Mazza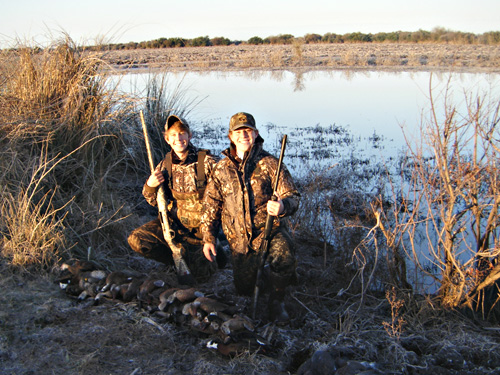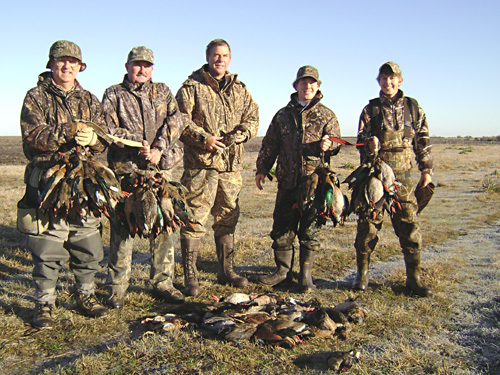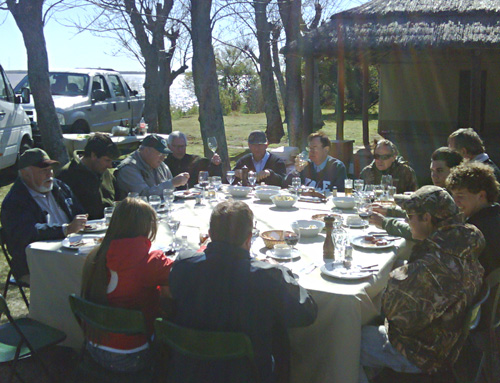 ARGENTINA MIXED BAG DUCK, DOVE and PERDIZ - WING SHOOTING REPORT
June 15-20th, 2009 - Buenos Aires province, Argentina

Trip of a lifetime.
Our good friend Dick Kennerknecht, from Casper-WY, has organized a truly 'trip of a lifetime' for this group. After staying one night at the Alvear Hotel in the nice neighborhood of Recoleta -the heart of Buenos Aires city- we departed on charter flight to Guamini area, considered one of the best places in Argentina for bird hunting. We stayed at La Sistina Lodge. Duck hunting was unblebable: everybody shoot the limit of 20 ducks per day per hunter!!! Then, during the afternoon the party get crazy with the dove shooting quality: plenty of birds. Some of them shoot 20 boxes, but Kelvin and Victor shoot more than 40 each!!! amazing... One of the journeys we organize a relaxed, but interesting hunt: pheasant, pigeon, hare and perdiz walking with dogs, the group enjoy a lot this outing. Victor, an entusiasthic hunter, also decide to make a big game hunt. Results, can be better: Feral Goat, Fallow Deer, Muflon, Ram and Blackbuck Antelope. We are waiting the final result, but a first measurement said that one of the ram probably will be Top 4 on the SCI Southamerican record, and one of the Blackbucks, probably Top 6. Can´t you imagine, two Top 10 trophies in only one day? Congratulations Victor!!! Back to Buenos Aires on a charter flight, they departed back to US promising themselves to return soon.
Dick, my friend... hope you and your party enjoyed this 'lifetime hunting trip'.
Pablo Mazza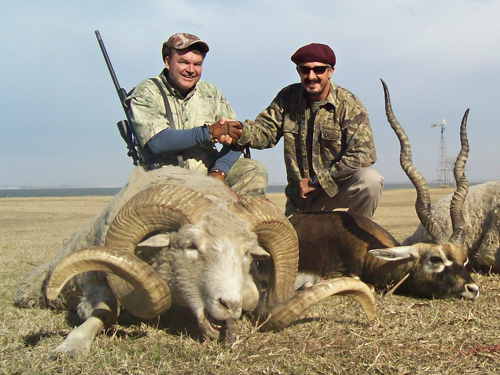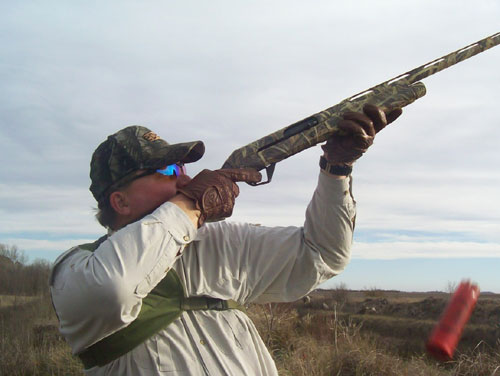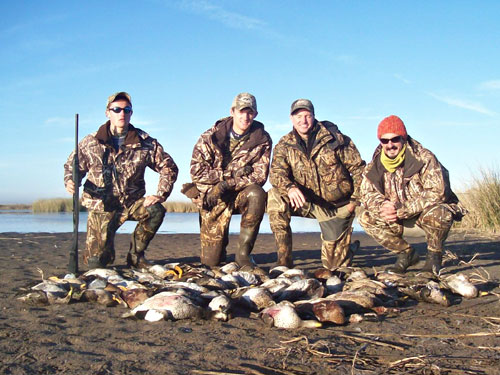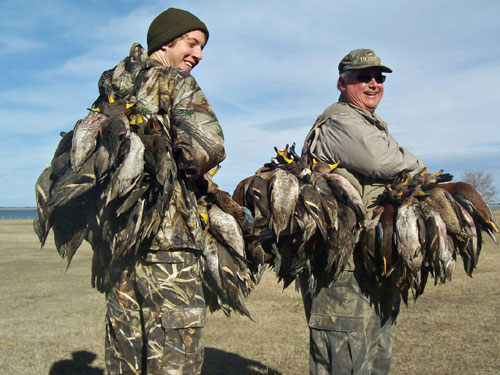 ARGENTINA DORADO FISHING
May 30th - 2009, Corrientes province Argentina

Close to the Dorado world record on the fly!
Our fishing guide in Corrientes province had probably cought his lifetime fish. A monster freshwater Dorado of 42 pounds, taken with # 8 rod. He fight during 45-minute to finally landed, take the picture and release back to the Parana river. Good work Peto, you did it!!!

Pablo Mazza
ARGENTINA BIRD SHOOTING REPORT
April 28th - 2009, Buenos Aires province Argentina

Daily hunt close to Buenos Aires city
"This was, quite simply, the best dove hunt I've ever been on. The birds were plentiful, the asado fantastic, and the guides consummate professionals".

Pete M, Washington, DC.
ARGENTINA BIG GAME
April 20th - 2009, La Pampa province Argentina

Amazing hunt!
Darrel and Jack Henry, make their first big game hunt in Argentina after hunting in Africa. Results can´t be better: two silver medal red stag, 2 gold medal fallow deer, very nice water buffalo and blackcuck antelope, muflon and a last minute surprise: high volume doveshooting just 30-minute far from the big game hunting lodge. Darrell and Jack please heard me: you are really lucky guys!!!
Best wishes, hope to see you back soon.

Pablo Mazza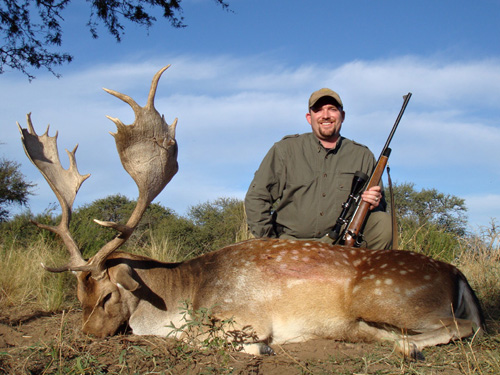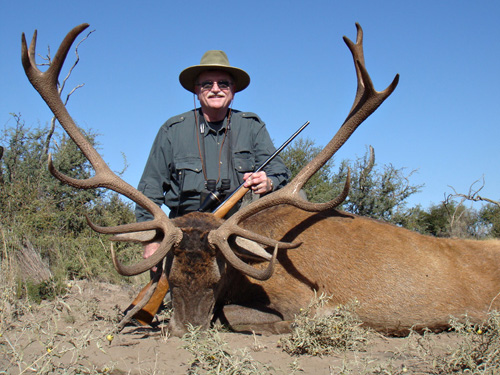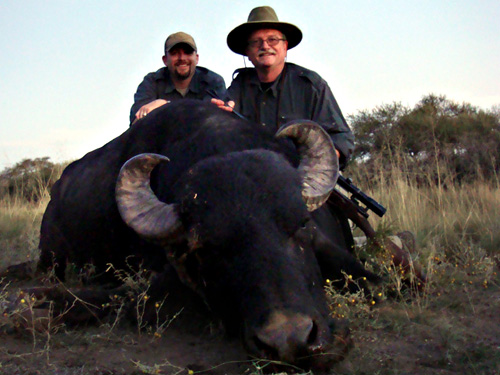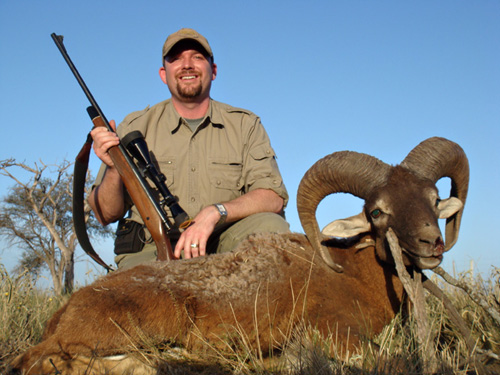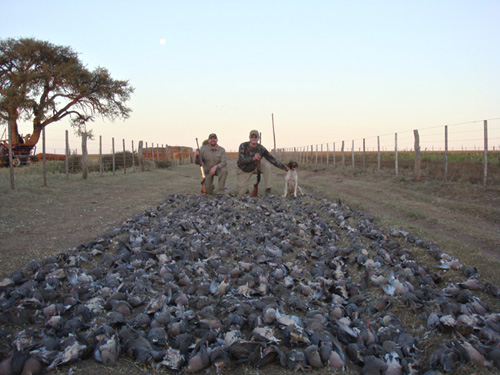 ARGENTINA DUCK and DOVE HUNTING + SEA TROUT FISHING
March 29th - 2009, Santa Fe province and Rio Gallegos, Argentina

Trip of a lifetime.
Our good friend Alexander Kennedy, from London-UK, has organized for his friends a truly 'trip of a lifetime'. In San Javier area -consider the best place in Argentina for duck hunt- no one of the party have problem to shoot the limit: 50 ducks per day per hunter!!! Two hunts was enough, so the group move to the other side of the Parana river, to one of the best lodges in Argentina where they will make high volume dove shooting (Note: one of the hunters shoot 47 boxes in only half day hunt). As the weather is so pleasant in this area during March, some of them decide to enjoy the pool and some of them go fishing for freshwater Dorado. Back to Buenos Aires on a charter flight, they depart on March 21st to Rio Gallegos. They book a weekly program for Sea trout fly fishing in one of the mos challenging and beautiful rivers of Patagonia. Nice fish, lot of fun and red wine!

Pablo Mazza

"Nuevamente pasamos un rato sumamente agradable y bien atendido en Los Laureles. El plan de cacería que ofreces es algo espectacular, sobre todo en la calidad (y cantidad!!!) de aves disponibles. Los secretarios todos muy eficientes y amables. Y ni se diga de la comodidad, atención tan personal y calidad de comida en Los Laureles. Te agradezco a tí y a todo tu personal para habernos prestado nuevamente una experiencia sin igual. Espero volver."

Alexander Kennedy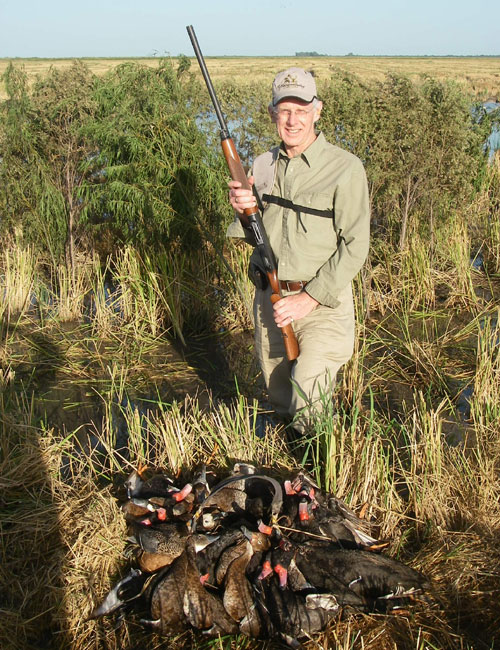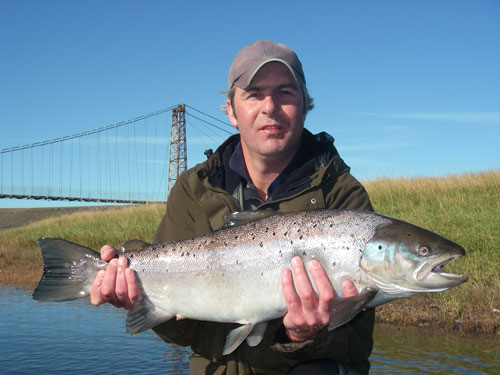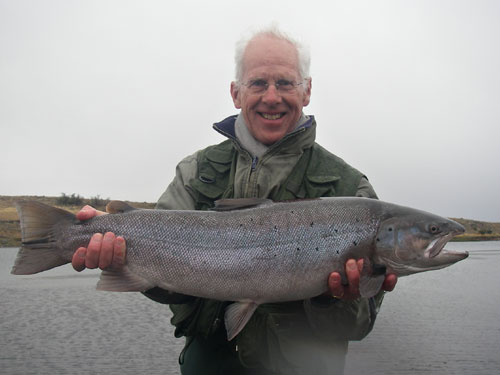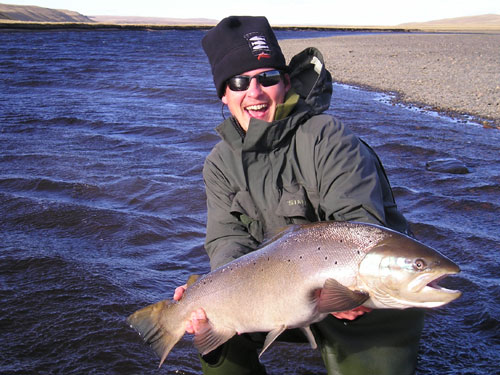 ARGENTINA RED STAG HUNT
April 3rd - 2009, La Pampa province Argentina

Father a son hunt!
Dear Jim, what a nice birth gift you gave to your son Vannie. I know he will never forget this trip. The red stag you hunt are really very nice.
All my best!

Pablo Mazza
ARGENTINA DUCK HUNTING REPORT
March 25th - 2009, San Javier, Santa Fe province Argentina

More and more good news from San Javier!
Bryan Mullett´s party have a great time at San Javier, on thei first dove shooting - duck hunting combo in Argentina, in only 2 days - 4 hunts, they shoot 822 duck. 12 hunters: Bob, Bryan, Erick, Chip, Woody, Don, Bill, Steve, Fucks, Pat, Grant and Harry. Good job guy! hope to see you back next year.

Pablo Mazza
ARGENTINA DOVE AND PIGEON SHOOTING
March 15th - 2009, Las Lajitas, Salta province Argentina

Excellent news from Salta... as ever.
Dove shooting season start early this year. Groups start arriving to Chacu Lodge by mid January and will continue like this till mid June. Millions of doves are waiting you in this amazing area. Pigeon shooting is as well as you can see in the pictures. Ask for available dates and start planning you next super dove shooting trip!

Pablo Mazza
ARGENTINA SEA TROUT FISHING REPORT
February 8th - 2009, Rio Grande river - Patagonia, Argentina

The biggest trout this season...
I will only tell you the size: 1 meter long and 62 cm diameter. Three weeks ago at Villa Maria Lodge, Rio Grande. Fisherman: Alejandro Bianchetti. No more words.

Pablo Mazza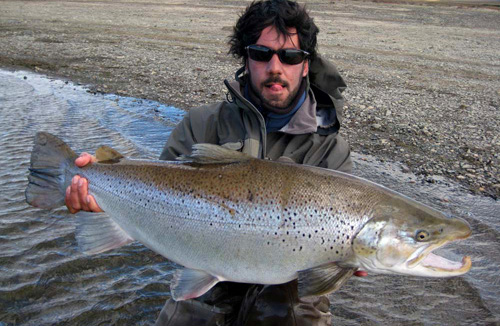 ARGENTINA DORADO FISHING REPORT
January 18th - 2009, Santa Fe province - Argentina

Dorado fishing trip...
The Parana river delta is suffering from the lowest water levels in 50 years. While the Parana is a gigantic river delta, (one of the largest in the world) the rivers that bleed out of the Parana are 4-7 feet lower than normal. We did find fish, but we worked our asses off to get them. Mornings and evenings were best. Our guides worked their butts off to scratch and scrape for fish. They clearly knew where to find the fish and the flies that would work. The boats were in good shape and ran well. Overall we had a great time, the lodge provided a high level of service and if the fish had cooperated we would probably still be there.

Christopher Doughters
Oregon, USA